The Business Performance Conference: Measure, Monitor, & Manage What Matters will be the first of a series of workshops meant for top executives to drive performance in their organizations.
FOR FURTHER INFORMATION PLEASE CALL US ON: +91 99606 72518 OR SEND AN EMAIL TO nishi@customerlab.biz
This workshop will challenge the way you think about performance measurement. Critical issues and obstacles organizations face when it comes to delivering results in today's business environment will be tackled by a sought-after global speaker. This event is specifically engineered to deliver immediate results as well as lasting value.
Who Should Attend?
CEOs, CFOs, COOs, CXOs, Presidents
Chief Strategy Officers
Strategic/Corporate Planners and Managers
Directors of Strategy Development/Formulation
Strategy, Planning, & Business Analysts
VPs & Directors of Performance Management
Executive Leadership Teams
General Managers & SBU/Line of Business Leaders
Strategic Change Agents
8:00 onwards
Registration
9:00 - 9:15
Opening Remarks
9:15 - 10:30
Value Creation and Business Performance


! How do you create value?

! What is Strategy Focused Organisation?

! How do you manage strategy?

! The new strategy management process

10:30 - 10:45
Coffee Break
10:45 - 12:30
The Six-Stage Strategy Management Process
12:30 - 13:30
Lunch
13:30 - 15:30
Plan the Strategy
15:30 - 15:45
Coffee Break
15:45 - 17:15
Plan the Strategy (Contd.)

! Aligning the Strategy

! Plan the Operations

! Making Strategy Everyone's Job

! Monitor and Govern

17:15 - 17:30
Closing Remarks
Dr M Muneer
CEO & Managing Director, CustomerLab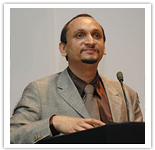 Dr Muneer interacts with Drs Kaplan and Norton very closely. Muneer is a well-known author and consultant. Before setting up CustomerLab, he was the CEO and Chief Consultant at Innovative Media, a customer and knowledge management company and prior to that he has worked with such global leaders as Ford, Mazda, GE, Saatchi and others. He is known for his strategic and creative solutions to seemingly complex problems. Muneer has a PhD in strategy, an MBA in marketing and finance, and a B.Tech in Electrical and Electronics Engineering. He works with such leading minds as Kenichi Ohmae, Parasuraman, Bernd Schmitt, Doug Holmes, Gary Hamel and Frans Johansson to name a few.


He has written several highly popular management columns across India and the Middle East in the areas of marketing and services. The publications include The Economic Times, Khaleej Times, Business Today, The Hindu Business Line, Financial Express, Business World and many others. He has written two books in English and 7 in regional languages, the latest being
Capitalising on Customers
. He is currently working on two books, one on
Measure Marketing
and the other on Strategy Execution. He also writes a few columns across the world including the Financial Chronicle.
He has spearheaded India Inc's global foray through a major tie up with India's leading industry body, the Confederation of Indian Industries, with the CII-CustomerLab India Scorecard Initiative. He is also working with the Government of India on a SME Scorecard Initiative to help small and medium businesses in India achieve execution excellence. He has been advocating the use of BSC and other tools in government to the President, Prime Minister, Finance Minister and several Chief Ministers in India to accelerate the country's economic growth, improve the effectiveness and efficiency of its governing bodies, and enhance its global stature.
He serves several initiatives and organizations in an advisory role, the latest being the NY-based Medici Foundation. He is also a director of Institute for Competitiveness, Michael Porter's India initiative, and also of Medici Institute for Innovation.
---
Sandeep Kulkarni
Principal Consultant, CustomerLab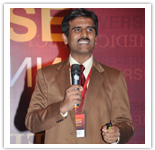 Sandeep Kulkarni has done his engineering from College of Engg., Pune, M.Tech from IIT Kanpur, and management from IIM Kolkata. He started his career in the CAD/CAM R&D division of Godrej, which was later spun off into Geometric Software Solutions. He worked for 18+ years in industry in various roles including Software development, Business development, Quality, IT Infrastructure and Enterprise Systems, HR, BSC, and General Administration. In the last stint he acted as a Vice President and Head of a Business Unit at Geometric Software.
He has had significant experience in BSC development, operations management, and human capital development in India as well as abroad. He has travelled extensively all over the globe for techno-commercial and strategy execution. He has facilitated various programs in the areas of Personality Analysis, Team Building, Organizational Culture and Transformations, General Management and Leadership. He has done considerable work in the formulation and implementation of Corporate Strategy through tools like the Balanced Scorecard including process industries.
His Field of Work and Areas of Interest include personality analysis and self development, team building, culture building, process transformations, strategy formulation and implementation, inspirational leadership, and lifestyle management.
Registration Form
| | |
| --- | --- |
| Title: | |
| Name: | |
| Designation: | |
| Company: | |
| Address: | |
| Tel: | |
| Mobile: | |
| E-mail: | |
| Fax: | |
| Security Check: | What is 10 + 6? |
| | |