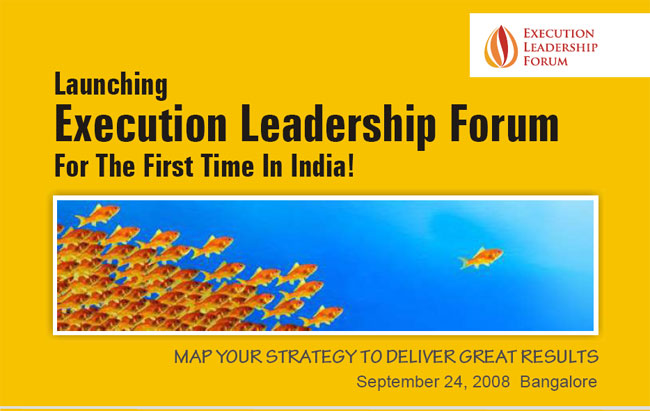 Reinvent Strategy Execution for Breakthrough Results
According to Fortune magazine studies, more than 90% of companies fail because they do not execute their well formulated strategies. CustomerLab Solutions, partners to some of the leading minds of the world including Kenihi Ohmae, Parasuraman, Schmitt and the founders of BSC, Drs Kaplan and Norton announces the launch of Execution Leadership Forum for assisting Indian companies execute strategy meticulously using the Kaplan-Norton framework and achieve world class performance. As part of the strategy execution process using the BSC, we have created systems to make organizations strategy focused. We perfectly understand the barriers to strategy implementation from our interaction with organizations across the world:
Only 5% of workforce understand the strategy;
Only 25% of managers have their incentives linked to strategy;
60% of the organization do not have budgets linked to strategy; and
85% of top management team spend less than one hour a month discussing strategy.
Most companies India face the big challenge: That of operationalising the leadership vision and to make breakthrough results a continuous process. In order to make your organization strategy focused and deliver stretch targets, you need to align your people to your strategy and the best available tool in the world for this is the Balanced Scorecard (BSC), which Harvard Business Review hails as the most revolutionary and effective tool of the last 75 years! In fact more than 80% of Fortune 1000 companies today use BSC for their strategy implementation. It is also the best integrator of all other management initiatives including Six Sigma, CRM, TQM, EVA, EFQM etc. As a way, we have perfected the process of doing this in the Indian culture.
STRATEGY IN ACTION WITH BSC
This workshop will provide you with the tools, techniques, and skills necessary to execute strategy that you can immediately apply. Wherever you are in the strategy management process, this workshop will stimulate, educate, and accelerate hands-on learning and practitioner networking. This workshop will teach you how to:
Create a strategy map
Design a scorecard
Identify measures, targets and initiatives
Get executive buy-in
Develop the first BSC report
Gain real-world insights from several case studies
Target Audience
This is an intense and invigorating one-day programme targeted specifically to all types of executives including:
Company owners, entrepreneurs
CEOs, CFOs, CIOs, CXOs,
Presidents, VPs, GMs and
All those charged with their organization's SBUs, Plants, Operations, R&D, HR, Training and Development, and innovation.
Organisations big and small, whether from private, public, government or not-for-profit will benefit from this workshop.
Calendar of Events
List of Indian Cities where Execution Leadership Programs will be conducted over a period of next 12 months. The first programme will be held on September 24th, 2008 at Bangalore and the list of other cities where the world class programme will be held are: Amhedabad, Kochi, Pune, Chandigarh, Mysore, Hyderabad, Lucknow, Howrah, Chennai, Jaipur and Coimbatore
AGENDA
08:30
Registration
09:00
Inaugural Session
09:15
Welcome and Overview

| | |
| --- | --- |
| | Introduction to BSC Concepts and Process |
| | |
| | What is Strategy? |
| | |
| | Barriers to Strategy Execution |
| | |
| | Breakout Exercise |
| | |
| | Strategy Focused Organisation |
| | |
| | Keynote Address via video tape |
| | |
| | What is BSC and Process Model |

10:15
Process Preparation

Teams in the BSC Development Process
Discussion

10:45
Coffee Break
11:00
Strategy Mapping

| | |
| --- | --- |
| | Interview Process |
| | |
| | Strategic Destination and Themes |
| | |
| | Testimonials/Cases |
| | |
| | Breakout Exercise |

12:45
Lunch Break
13:45
Building a BSC/Practice Session
15:00
Tea Break
15:30
Measures, Targets, Initiatives / Practice Session
17:15
How to become an SFO and Deliver Breakthrough Results
17:45
Wrap up



Speaker's Profile

Dr. Muneer
CEO & MD, CustomerLab

Muneer is a leading management consultant and author based in India and Dubai. He has over 20 years of management experience having worked across industries and countries. He has worked with GE, Ford, Saatchi, and Lowe before moving on to setting up his own companies. He is a serial entrepreneur having set up two companies in the knowledge management and consulting space. He is also in the process of setting up two major institutes, one for innovation to drive grass root innovation and the other to mentor leaders.

He has written several highly popular management columns across India and Middle East in the areas of marketing and services. The publications include The Economic Times, Khaleej Times, Business Today, The Hindu Business Line, Financial Express, Business World and many others. He has written two books in English and 7 in regional languages, the latest being Capitalising on Customers. He is currently working on two books, one on Measure Marketing and the other on strategy execution. He is also planning a major column on execution leadership.

Dr Muneer interacts with Drs Kaplan and Norton, the founders of the revolutionary management tool BSC very closely. He also works with such leading minds as Kenichi Ohmae, Parasuraman, Bernd Schmitt, Doug Holmes, Jim Lenskold and Frans Johansson to name a few. He has spearheaded India Inc global foray through a major tie up with India's leading industry body, the Confederation of Indian Industries, with the CII-CustomerLab India Scorecard Initiative. He is also working with the Government of India on SME Scorecard Initiative to help the small and medium businesses in India achieve execution excellence. He has been advocating the use of BSC and other tools in government to the President, Prime Minister, Finance Minister and several Chief Ministers in India to drive India to economic and political growth.
---
Mr. Sandeep Kulkarni
Principal Consultant, CustomerLab

Sandeep Kulkarni has done his engineering from College of Engg Pune, M.Tech from IIT Kanpur, and management from IIM Kolkata. He started his career in the CAD/CAM R&D division of Godrej, which was later spun off into Geometric Software Solutions. He worked for 17+ years in industry in various roles including Software development, Business development, Quality, IT Infrastructure and Enterprise Systems, HR and General Administration. In the last stint he acted as a Vice President and Head of a Business Unit at Geometric Software.

He has had significant experience in BSC development, operations management, and human capital development in India as well as abroad. He has travelled extensively all over the globe for techno-commercial and strategy execution. He has facilitated various programs in the areas of Personality Analysis, Team Building, Organizational Culture and Transformations, General Management and Leadership. He has done considerable work in the formulation and implementation of Corporate Strategy through tools like the Balanced Scorecard.

His Field of Work and Areas of Interest include personality analysis and self development, team building, culture building, process transformations, strategy formulation and implementation, inspirational leadership, and lifestyle management.




Sponsorship Details

The Execution Leadership Forum is a radically different platform for preparing tomorrow's leaders today through mentoring, tutoring, sharing success stories and by actually DOING together.

The programmes cover the elusive strategy execution issues, human capital, and leadership. We plan to partner companies looking to enlightening senior executives and enabling organizations to achieve world class success in execution leadership. We invite companies and brands who wants to reach out to a larger base and to first class cities. Since we also partner an academic institution, the benefits have two dimensions: As a business partner to prospective companies and as an employer to prospective employees.

The sponsorship opportunities start from a low investment of Rs 50,000/- per programme per city to a maximum of Rs 150,000. The benefits include media coverage through print, TV, internet, emailers, direct mailers, online contests, PR etc.




Registration and other Details

The registration fee is Rs. 6000/- (12.36% service tax extra) for the full day of the seminar, study materials, breakout sessions, case studies, refreshments, lunch and interaction with the speakers and delegates.

To register please send the delegate name, designation, organization, address, tel, fax and email ID by email to imedia@vsnl.com and send payments by DD or cheque favouring Innovative Media, F-07, Golden Orchid, 10/8, Kasturba Road, Bangalore-560001.

To know more about early bird discounts, group discounts and CII/FICCI/IHRD/MSME/NHRD discounts, please call 080-22231550 / 080-65396538 or write to imedia@vsnl.com and saurav@customerlab.biz