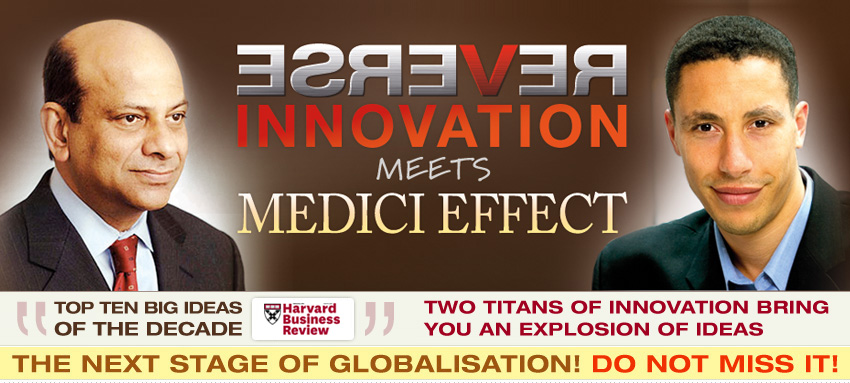 28th Jan 2013, Trident BKC, Mumbai

World's No 3 ranked thinker Vijay Govindarajan and the acclaimed practical innovation Guru Frans Johansson, for the first time together at a forum, To take you to the next stage of globalization from India.

Reverse Innovation is all about developing ideas and products in emerging markets first – instead of scaling down developed world products - to unlock a world of opportunities for your business. Medici Effect is all about utilizing the diversity we have in India to drive different strategic initiatives simultaneously at no extra resources. Together, there is not better solution for any company to change the fortunes of all stakeholders including the social sector.

As a result of these forces, companies find that their strategies need almost constant redefinition - either because the old assumptions are no longer valid, or because the previous strategy has been imitated and neutralized by competitors, or because technological developments and globalization offer unanticipated opportunities.

The intensive event will address many of the following issues relevant to Indian businesses:
How do we identify the market discontinuities that could transform our industry?
How can we create new growth platforms with a view to exploit the market discontinuities?
How do we allocate resources to support growth?
What is your role in shaping the future of your company?
What kind of organizational DNA must we have in order to anticipate and respond to changes on a continual basis?
Why do companies need to continuously innovate strategically?
How to lead and leverage from diversity?
How to create informal organizational connections for growth?
An exclusive consultation with one of the titans (Limited offer)
An annual subscription to HBR free (Limited offer)
Two executable ideas minimum per team of two… guaranteed!
Prequalify your company to the Medici Innovation Hall of Fame
Why You Should Attend?
Whether you are a CEO, financier, strategist, marketer, scientist, engineer, policymaker, or a student, you will need to understand reverse innovation to be competitive in the future.
Specifically, CEOs, COOs, CFOs, CMOs, business owners, start-up promoters, NGO heads, Functional Heads, VPs, GMs and aspiring leaders.
TO KNOW MORE ABOUT REGISTRATION PROCESS, SPECIAL OFFERS AND EARLY BIRD DISCOUNTS, PLEASE CALL US ON: 080 2223 1550 / +91 99606 72518 OR SEND AN EMAIL TO IMEDIA@VSNL.COM