The goal of the Lead from the Front: Turn your management system into a competitive weapon workshop is simple… to equip and empower executives to manage their organisations through the current economic crisis to emerge stronger, more agile, and ready to compete in a new economic environment.
| | |
| --- | --- |
| November 11, | Kolkata |
| November 18, | Chennai |
| November 25, | Hyderabad |
As the Global Economic Crisis (GEC) passes through the one-year mark, most organisations have made the necessary decisions to ensure survival in the short term by cutting costs and preserving cash.
In spite of mixed global data, early indications show that Asian economies and especially the Indian economy, will recover much more quickly than their Western counterparts. We in India, in particular, have managed to maintain an impressively positive growth rate through the global downturn. In spite of these "green shoots" the global downturn remains a clear and present threat to global and regional growth at least into 2010.
Investing in your management system to ensure a more dynamic and connected approach that brings together strategy, operations, policy, and risk is essential to avoid the mistakes of the past and to allow for a more nimble and flexible approach for the future.
Special Bonus When You Register: You can get your strategy execution processes assessed and benchmarked against those of the world-class organizations at no extra cost. This free assessment is only an indicative mapping.
This intensive, hands-on workshop will demonstrate to you how your management system can become a competitive weapon enabling your organisation to execute faster and with more certainty than your competition.
The first of a series of workshops under the Lead from the Front initiative will focus on introducing the new 6-stage management process to delegates for the first time.
According to many top CEOs including Jack Welch, a mediocre strategy well executed is much better than an excellent strategy executed poorly. In this workshop you will learn methods to formulate and modify an excellent strategy and how to execute it even better so you can lead from the front.
We have been asking hundreds of CEOs across industries on their management issues and some of the common comments we hear are:
Our ideas are not getting to the people down the line
We have an idea of where we want to go but we have not gotten down to putting it formally
People do not share the same vision
We do not know if our strategy is working
Employees are not motivated
We want to drive a major change but people do not see the reason for change
We cannot manage something we cannot measure
How do we measure something like organisation culture or human capital?
Most of our meetings are operational as we discuss numbers, how do we get everyone to discuss strategy?
We find it tough to manage performance and monitor progress of our strategy
Sometimes it is too late to do any change in action to achieve strategy
Our people are not aligned
Too many initiatives in our organisation
We find quite often the top management themselves do not clearly articulate the company strategy well.
In this high level workshop, we will help senior executives with frameworks and processes that will help them overcome strategy implementation issues and drive superior performance.
Delegates will learn leading edge techniques, examine best practice case studies and hear from renowned experts how to overcome present performance challenges. Takeaways include proven performance measurement practices, frameworks, and systems that will help immediately improve the monitoring and management of business performance.
This Event To:
Gain an in-depth understanding from our lead speaker of the new Strategy Management System that effectively links strategy to operations to create a real competitive advantage
Network with highlevel decision makers from across India in a unique and inspiring environment
Benefit from case examples and hands on exercises
Shape your leadership agenda for delivering better strategy execution and ongoing sustainability in the global marketplace
Learn how to apply world class concepts in your organization as a high potential source of competitive advantage
Who should attend:

CEOs, CFOs, CXOs, Presidents, SBU Leaders
Owners and promoters of small and medium enterprises
Strategy Officers
VPs/ Directors of Strategy Management
Executive Leadership Teams
Finance, IT, HR, Marketing and other Functional Heads
Strategy Managers and Planners
Strategic/Corporate Planners and Managers
Directors of Strategy Development/Formulation
Strategy, Planning, & Business Analysts
General Managers & SBU/Line of Business Leaders

Themes covered:

Frameworks for strategy
Making Strategy Management a Core Competency
Designing Strategy for Successful Execution
How to use Strategic Themes to Create Incredible Focus
Align your People, Processes, and Stakeholders to Break Down Barriers to Execution
Create the Link Between Strategy and Operations via Dynamic Planning
Review Meetings to Drive Success
Leadership: A Necessary and Sufficient Ingredient for Sustainable Success
Delegate Fee: Rs.14,000/- plus service tax of 10.3% for the full day workshop, materials to execute strategy, lunch and refreshments.

Early Bird Offer: Register and pay before October 11, 2009 and pay only Rs.12,000/- plus service tax.




Payment must be made by cheque or DD favouring INNOVATIVE MEDIA, payable at Bangalore and send to Tasni, Innovative Media, F-07 Golden Orchid, H Block, 10/8 Kasturba Road, Bangalore 560001.
Tel: 22997117

Registration Process:
Please send your nominations by email to imedia@vsnl.com with the following details: name, designation, organisation, address, tel, fax and email ID. Please send the payments by courier to the address above.

Speakers/Trainers


M Muneer
CEO and Managing Director, CUSTOMERLAB SOLUTIONS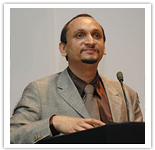 Muneer is a leading management consultant and author based in India and Dubai. He has over 22 years of management experience having worked across industries and countries. He has worked with GE, Ford, Saatchi, and Lowe before moving on to setting up his own companies. He is a serial entrepreneur having set up two companies in the knowledge management and consulting space. He is also in the process of setting up two major institutes, one for innovation to drive grassroots innovation and the other to mentor leaders.
He has written several highly popular management columns across India and the Middle East in the areas of marketing and services. The publications include The Economic Times, Khaleej Times, Business Today, The Hindu Business Line, Financial Express, Business World and many others. He has written two books in English and 7 in regional languages, the latest being Capitalising on Customers. He is currently working on two books, one on Measure Marketing and the other on Strategy Execution. He also writes a few columns across the world including the Financial Chronicle.
Muneer works closely with some of leading management thinkers in the world including Kenichi Ohmae, Robert Kaplan, David Norton, Parasuraman, Jim Lenskold, Bernd Schmitt and many others for strategy execution, brand management and service excellence. He has spearheaded India Inc's global foray through a major tie up with India's leading industry body, the Confederation of Indian Industries, with the CII-CustomerLab India Scorecard Initiative. He is also working with the Government of India on a SME Scorecard Initiative to help small and medium businesses in India achieve execution excellence. He has been advocating the use of BSC and other tools in government to the President, Prime Minister, Finance Minister and several Chief Ministers in India to accelerate the country's economic growth, improve the effectiveness and efficiency of its governing bodies, and enhance its global stature.
Muneer's client list includes some of the best companies in the region including Reliance, Wipro, TVSL, ICICI Bank, LMW, Dubai Aluminium, Tata Group, Idea, DHL, Oracle, Cognizant, ING Vysya, UB, Shaw Wallace and Murugappa Group.
He serves several initiatives and organizations in an advisory role, the latest being the New York based Medici Foundation/Summit. He is also a director of Institute for Competitiveness, Michael Porter's India initiative, and also of Medici Institute for Innovation.
Amit Kapoor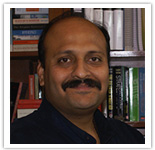 Dr. Amit Kapoor is Professor of Strategy and Industrial Economics at Management Development Institute; Honorary Chairman at Institute for Competitiveness studying firms, clusters and economies; India Commissioner for the Competitiveness Institute, Sloan Affiliate; and member of the Collective. He is an affiliate faculty for the Microeconomics of Competitiveness course of Institute of Strategy and Competitiveness, Harvard Business School. He offers the course at Management Development Institute, Gurgaon.
Prior to his appointment with MDI, Gurgaon he was with IIM, Lucknow and has also been the Chief Economist with Datamonitor PLC. He is a Ph.D. in Industrial Economics and Business Strategy and an accomplished academician and has received the ESSID Scholarship and MIT DCA Scholarship. Amit has been a faculty and consultant in the domain of strategy, innovation and competitiveness. He is a Ruth Greene Memorial Award winner for writing the best case of the year, by North American Case Research Association (NACRA). He has been invited by Kennedy School of Government & Harvard Law School, Harvard University; World Economic Forum at its India Economic Summit to present his views on various issues and themes like strategy, outsourcing and economic development. In all he has been a speaker at over 50 industry forums, international conferences and events across the globe. He has been a resource for journalists and expert committees. He has made contemporary contribution towards thought on dynamics of evolution of firms and impact of regulation on the performance of firms.
His research interest lies in the fields of Enhancing Competitiveness, Competitive Advantage and Leveraging Technology for Success. He is the author of India City Competitiveness Report and India State Competitiveness Report. In addition he has written numerous cases, memos, reports, articles in academic journals and popular media publications like Images Retail, Outlook Business, Realty Plus, Economic Times, Business Standard, Hindu Business Line etc. He also sits on the advisory boards of companies like Vitalog, Empower et al and has worked with organizations like Intel, PepsiCo, Airtel during his consulting assignments.