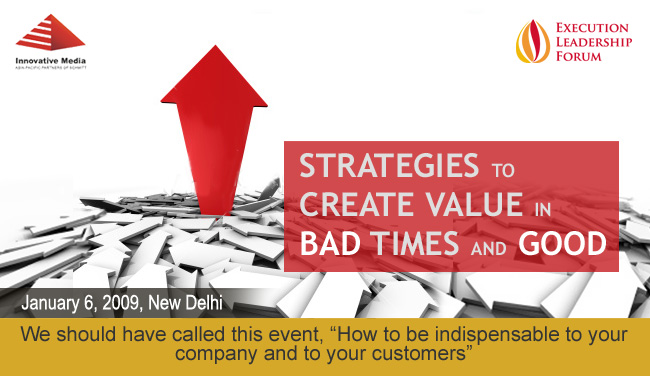 How often have you heard someone say we have to unlock value ?
What is your strategy and how do you communicate it?
How do you unlock hidden value in your company and create value for your customers?
What is your company strategy for value creation? And how do you contribute to this value creation process?
Do you have a customer delight strategy that is actionable?
How do you make decisions? Manage change?
How can you create value from intangibles such as customer service, internal processes, brands, human capital, information capital and organisation capital?
How can you create power brands of your business? And how to maintain brand loyalty in bad times?
What is Service Excellence? Service Productivity? SFO?
How do you continually evolve and enhance your customer-focused strategy?
The event will be very hands-on with several breakout sessions and exercises to unlock hidden knowledge among all of us. There will be several case studies and stories to keep you entertained, as well as world class concepts to make your work more productive and valuable to your company and the marketplace.

There are two important tasks that companies and people perform at any point of time: They are all both customers and suppliers of services, products, knowledge or some combination of them. Even in our personal lives there is always the element of give and take. Under all such scenarios, relationships between the exchange partners becomes a critical issue for value creation. And, service excellence will be the key differentiator between success and failure of those relationships.

What are your company sources for value creation? Does your company effectively utilize its resources for effectively formulating and executing strategies for value creation? After running three highly successful events in this series in India, we are back with brand new content and improved learning tools to give you immediate results.


Details of the Programme
The event combines the best of tools and frameworks that are time-tested for creating value for companies and customers. Essentially this workshop is guaranteed to pave the way for breakthrough results for companies.

The first half of the day will focus on strategies for value creation in any market and the second half will concentrate on actually creating the value. Several case studies and at least one breakout exercise will be part of the agenda and are geared to give participants a very interactive learning platform. Several frameworks including Disruptive Innovation strategy, SERVQUAL, GAPs, and BSC-SFO will be integrated into the event to facilitate better and faster learning.

You will hear about Nordstorms Nordies, Southwest strategy, Xerox disaster, Intel turnaround, Subway serendipity, Wells Fargo online financial services, and other live examples from the audience including yourself as the speakers unfold strategies for value creation.
Agenda
8.00 AM
Registration
9.00 AM - 9.05 AM
Welcome note
9.05 AM - 9.45 AM
Session 1: Strategy and Value Creation: Frameworks that work by
M Muneer
9.45 AM - 11.15 AM
Session 2: Creating Value for your Company and Customers in the New Age: Service Quality, Tools and Processes, and Techno Readiness Segmentation by Parsu Parasuraman
11.15 AM - 11.30 AM
Networking/Coffee Break
11.30 AM - 1.00 PM
Session 3: Value Creation: Service Productivity and an Integrative Framework for Business Excellence by Parsu Parasuraman
1.00 PM - 2.00 PM
Lunch
2.00 PM - 3.00 PM
Session 4: Creating Value from Brands, the biggest intangible assets by Sharad Sarin
3 .00 PM - 4.00 PM
Session 5: Creating Value from Other Intangibles: Frameworks and Processes, Case Studies, and Breakout Exercises by M Muneer
4.00 PM - 4.15 PM
Networking/Coffee Break
4.15 PM - 4.45 PM
Session 5 Contd.
4.45 PM - 5.00 PM
Q&A, Vote of Thanks
Who Should Attend?
CEOs, entrepreneurs, Presidents, VPs, GMs, Functional Heads of HR, Finance, Marketing, Service, Sales, etc., Marketing and Finance managers and strategy officers from all types of industries such as banking, manufacturing, automobiles, mutual funds, telecom, tourism and hospitality, travel, airlines, etc would benefit from this intensive one day programme.

This event also offers a great opportunity to invite your key customers and clients and expose them to cutting-edge knowledge on value creation, service excellence, etc. Doing so will enhance the value you deliver to them and strengthen their loyalty to your company.

Who Is Parasuraman?

Dr. Parsu Parasuraman is an active consultant and his tools have been used by many of the Fortune 1000 companies and other IT majors. He was chosen as one of the top 50 marketing gurus in the world by UK's Chartered Institute of Marketing.

Dr. Parasuraman was selected as one of the "Ten Most Influential Figures in Quality" by the editorial board of The Quality Review, co-published by the American Quality Foundation and the American Society for Quality Control. He has been selected as Best Professor Executive MBA classes on several occasions and has received the Provost's Award for Scholarly
Research at the University of Miami. In 1998 he received the American Marketing Associations "Career Contributions to the Services Discipline Award" [an annual award bestowed upon one individual who has had a sustained and far-reaching impact on the field]. In 2001 he received the Academy of Marketing Science's "Outstanding Marketing Educator Award" and he was designated as a Distingusihed Fellow of the Academy in 2004. In 2005 he received the Distingusihed Alumnus Award from IIT-Madras.

Dr. Parasuraman has written several books on marketing and service quality, which are widely used as textbooks and reading material for MBA courses and executive education across the world.

Who is Sharad Sarin?

Sharad Sarin has been a faculty member since 1976, with XLRI, Jamshedpur, and has been the Dean of XLRI [1984-1988] and a Visiting Faculty to the Indian Institute of Management at Ahmedabad [India], the University of Rhode Island, Kingston [USA], Colorado University at Boulder [USA] and Helsinki School of Economics [Finland]. He has presented seminars in around 20 universities in the US between 1984 and 2001.

Prof Sarin's major areas of interest are: Competition and Globalization,
Corporate Planning, General Marketing, Industrial Marketing, Marketing's Role in Development, Relationship Marketing and Strategic Marketing. He has published articles in leading Indian and international journals. He has also participated and presented papers in several conferences in India and abroad.

Over the last 30 years, Prof Sarin has been involved in several consultancy assignments including marketing studies for a variety of industrial and household products. Besides consulting, Prof Sarin has been conducting training programmes for senior- and middle-level business executives.

In November 1995, Prof Sarin was named amongst the top five teachers of business management in India by Business Standard. Prof Sarin is widely known as the originator of the novel concept of 'Marketing Fair.' Between 2001 to 2003, Prof. Sarin was on the panel of judges for Prime Minister's Trophy [Government of India] to select the best integrated Steel Plant in India.

Prof Sarin is on the governing board of Tata Refractories Ltd [Jamshedpur, Lark Cables and Technologies Ltd [Goa], Rane Madras and Tega Industries Ltd [Kolkata] Amongst the NGOs, Prof Sarin is on the advisory board of Tata Steel Rural Development Society [Jamshedpur], and Krishi & Grameen Vikas Kendra [Ranchi] - two leading NGOs in the area of rural development.
Who is M Muneer?

Muneer is a leading management consultant and author based in India and Dubai. He has over 20 years of management experience having worked across industries and countries. He has worked with GE, Ford, Saatchi, and Lowe before moving on to setting up his own companies. He is a serial entrepreneur having set up two companies in the knowledge management and consulting space. He is also in the process of setting up two major institutes, one for innovation to drive grassroots innovation and the other to mentor leaders.
He has written several highly popular management columns across India and the Middle East in the areas of marketing and services. The publications include The Economic Times, Khaleej Times, Business Today, The Hindu Business Line, Financial Express, Business World and many others. He has written two books in English and 7 in regional languages, the latest being Capitalising on Customers. He is currently working on two books, one on Measure Marketing and the other on Strategy Execution. He is also planning a major column on execution leadership.

He has spearheaded India Inc's global foray through a major tie up with India's leading industry body, the Confederation of Indian Industries, with the CII-CustomerLab India Scorecard Initiative. He is also working with the Government of India on a SME Scorecard Initiative to help small and medium businesses in India achieve execution excellence. He has been advocating the use of BSC and other tools in government to the President, Prime Minister, Finance Minister and several Chief Ministers in India to accelerate the country's economic growth, improve the effectiveness and efficiency of its governing bodies, and enhance its global stature.

Delegate Fees, Special Offers and Registration Details
To register please send the delegate name, designation, organization, address, tel, fax and email ID by email to
imedia@vsnl.com
and send payments by DD or cheque favouring
Innovative Media, F-07, Golden Orchid, 10/8, Kasturba Road, Bangalore-560001.
To know more about delegate fee, speaker's profile, early bird discounts, group discounts and CII/FICCI/ IHRD/MSME/NHRD discounts, please call 080-22231550 / 080-65396538 or write to
imedia@vsnl.com